VIEW 3 - Sideview ( at the third positioning angle )
Featuring the Stylish FIRE CASE: Your Leather Folio Cover with Stand for Kindle Fire-
provide your precious Kindle Fire with the finest innovative design and protection
it deserves.With an excellent handcraftsmanship set above and beyond to give
consideration even to the most miniscule elements, the case lets you use your Kindle Fire
with ease and effortless access to all of its buttons, controls and other features. The Fire
is secured within a durable interior frame and has an elastic strap that holds the lid in its
open and closed position.
Performance:
• Interior frame folds to function as the Kindle Fire stand both vertically and horizontally
• Provide three-step positioning angles for horizontal viewing and display
• Convenient elastic strap holds the lid open or closed
• Allows access to all ports
Protection:
• Durable and eco-friendly exterior made out of bycast leather material which is easy
to clean and gives reliable protection
• Sturdy interior frame which secures your Kindle Fire within in all corners
• Smoother bycast leather material utilized in the interior of the case
for added protection against scratches and impact
• Thin three strips prevent the standing horizontal position from sliding
Technical Details:
Case for Amazon Kindle Fire Cover 7" Display (2011 Model)
Material: Exceptionally crafted bycast leather material with a smoother
interior for an elegant look and durable protection
Dimensions: 191mm x 121mm
Item Weight: 6 ounces
Viewing Angles: The stand provides 3-step positioning angles for convenient
viewing based on your personal preference
Slim Design - The Signature case is designed to protect your device
without adding bulk
Color:  Black
Have an Amazon.com Account?
Click Here to Buy 1 CASE for $1.99!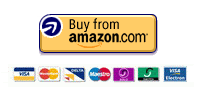 Click Here to Buy 2 CASES for only $3.99! 

OR BUY 1 Case AT OUR WEBSITE (PAYPAL) CLICK ADD TO CART